Accredited Acute Hospitals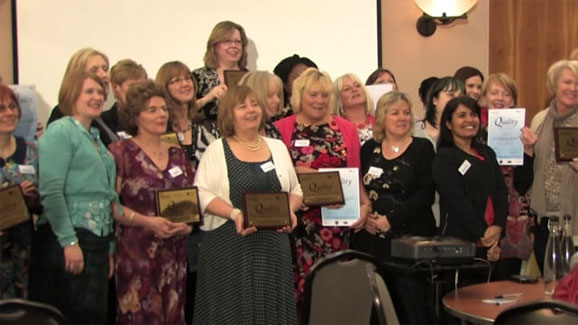 GSF Accreditation for Acute Hospitals
"GSF has been the framework into which everything else has fitted …...it gave us a common vocabulary in all settings enabling better cross-boundary care." Dr Karen Groves Palliative Care Consultant Southport and Ormskirk Hospital
https://vimeo.com/channels/gsfuploads
Click here for more information about Accreditation from the Bradford & Airedale Better Together Event.
As with all GSF Programmes, participating teams are encouraged to progress to accreditation once the GSF training is complete as a marker of quality assurance and quality recognition.
1. Benefit of GSF accreditation
The GSF Quality Hallmark Awards is an independently validated marker of excellence, recognised by the regulator CQC, commissioning bodies, NHS Choices and many others. The database of accredited organisations is available to the general public and is co-badged by an independent partner – RCGP in the case of primary care accreditation, the four main care home organisations (NCA, NCF, ECCA, RNHA) in the case of care homes accreditation.
2. Process
Accreditation follows completion of the full GSF training programme in acute hospitals, which normally takes about 2 years, with a mid-point assessment of Foundation level after the first year. Once completed the hospitals can then register for the quality assurance process to demonstrate quality care for people nearing the end of life. This is in line with the National End of Life Care Survey (2008), Quality Markers for Community Hospitals (2009) and NICE quality standards in end of life care (2011).
In accordance with other GSF accreditation processes, this includes:
Self- Assessment against 5 clear standards of best practice – right person, right care, right place, right time, every time. The hospital team demonstrate change by providing a portfolio of evidence including a statement of how they have achieved each standard and provide the supporting evidence.
Key Outcome ratios – demonstrating change and impact for patients with comparative measures of progress before and after training.
Audit - After Death/ Discharge Analysis audit. Demonstrate change at the patient level with ADA (before, after training and accreditation) and feedback from patients/carers.
Quality Assessment visit – reviewing the integration of the processes into everyday practice.
NB. Hospitals can either put forward individual named wards for accreditation, or the whole hospital award, which entails slightly different processes. Where hospital wards have demonstrated innovative best practice their examples will be included in the membership area of the website.
Acute Hospital Wards Accredited - Round 2 2015 - 2018
Ward9 & Coniston Suite, Furness General Hospital

Creedy Ward, Royal Devon & Exeter Hospital
Acute Hospital Wards Accredited - Round 1 2015 - 2018
Ward 23, Royal Lancaster Infirmary, University Hospitals of Morecambe Bay NHS Foundation Trust

Yarty Ward, Royal Devon & Exeter Hospital

Yeo Ward, Royal Devon & Exeter Hospital

​
https://vimeo.com/channels/gsfweb/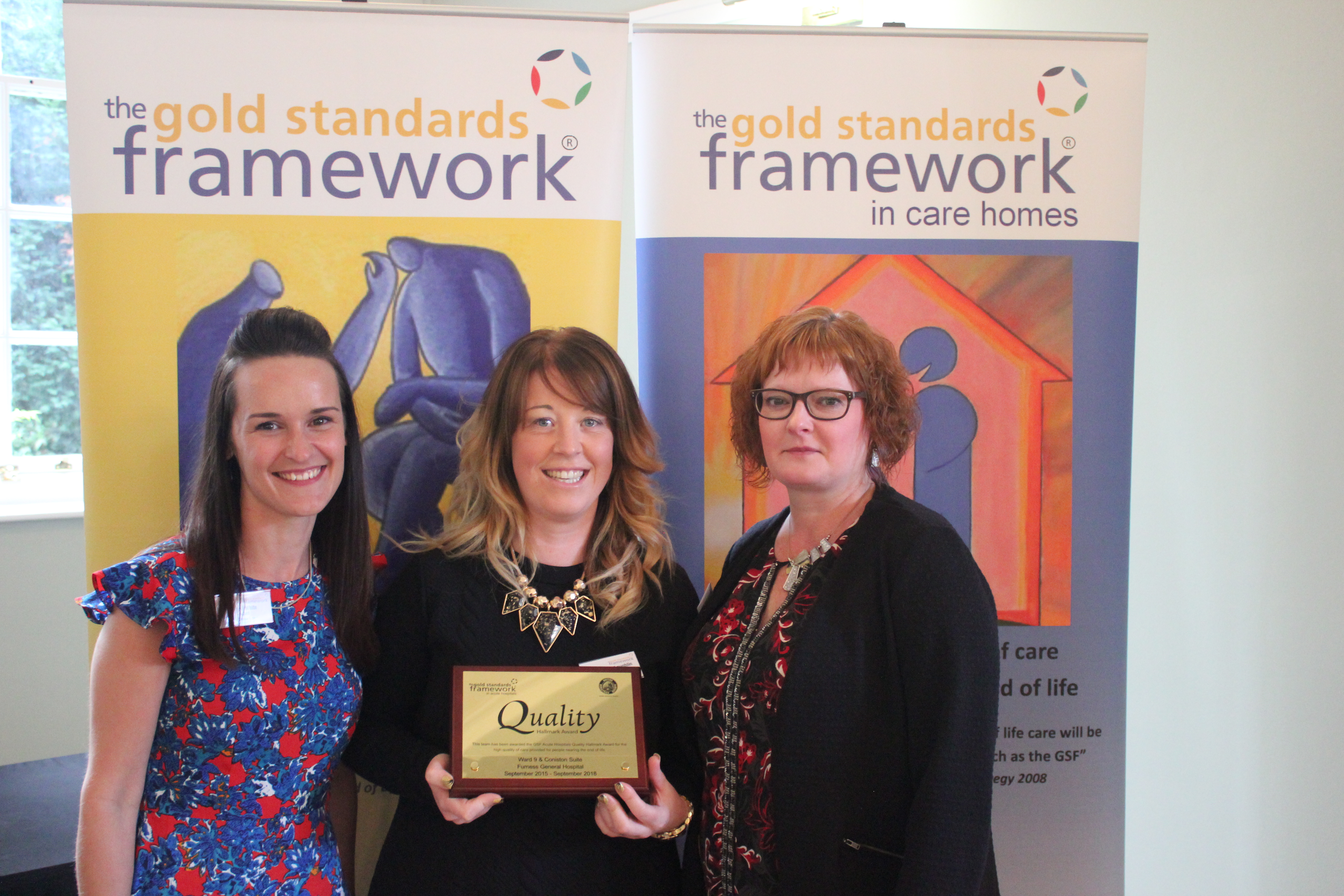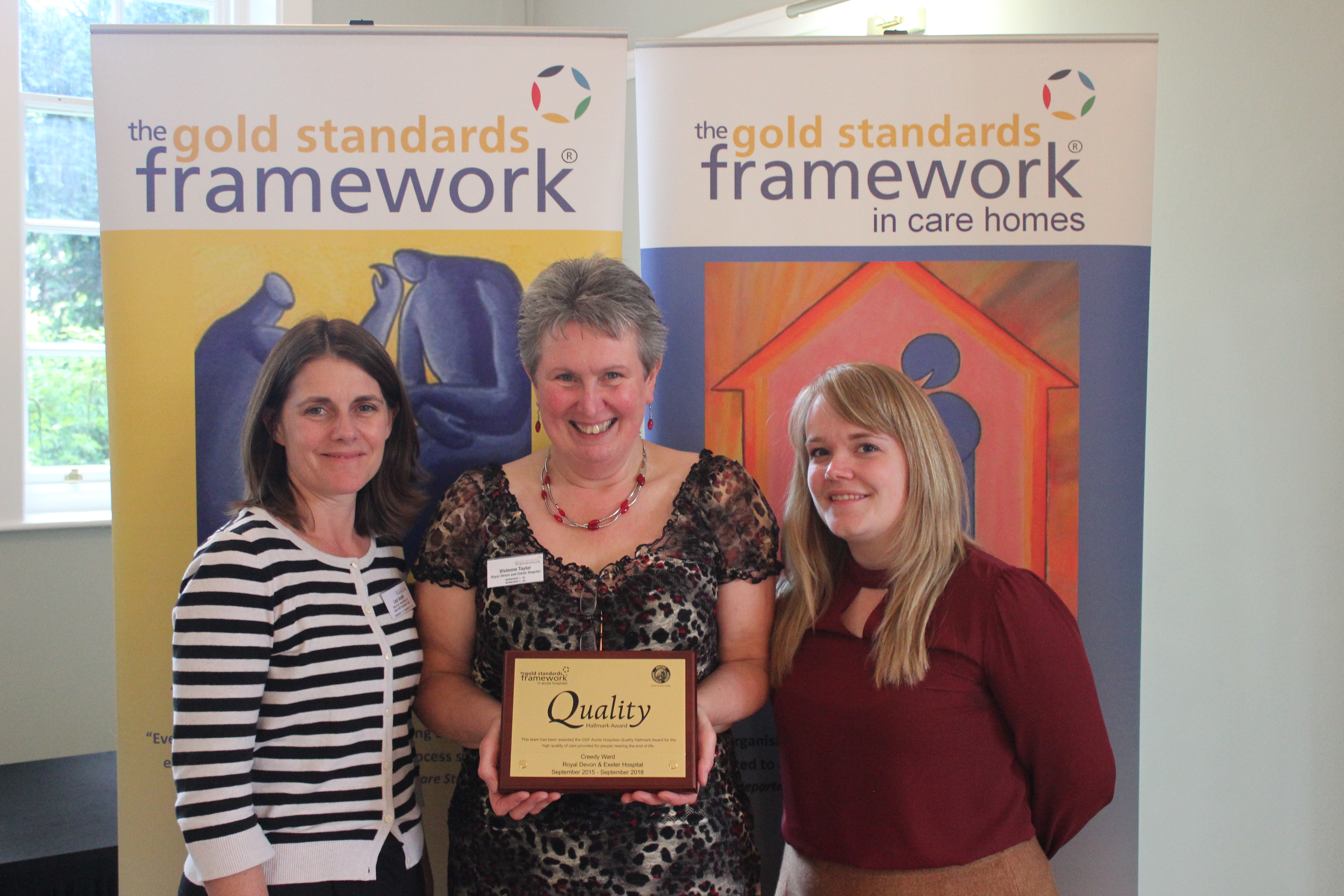 Congratulations and well done to our latest GSF Accredited Acute Hospital Wards!
Map of all GSF Accredited & Re-Accredited Acute and Community Hospitals

Next Steps:
Any hospital wards ready to progress to accreditation will receive full guidance packs and further clarification of timescales.
GSF Accreditation for Round 3 Acute Hospitals is now well underway with currently registered Hospital wards due to receive their assessment visits in January and February, 2016. The next presentation of GSF Quality Hallmark Awards in the Healthcare setting will be in May 2016. For more details contact the GSF team at hospitals@gsfcentre.co.uk
"The benefits of GSFAH have been that patients are identified earlier and supported better " - GSF Facilitator Royal Devon and Exeter Hospital
Updated: 15/12/2015